It's always a pleasure and a creative challenge producing commercials for Bestselling author Sherrilyn Kenyon's thrilling novels.
Over the 4th of July weekend, the TOH team had the opportunity to shoot another 30-second live action book trailer for Ms. Kenyon's latest chapter of the Dark Hunter series, "Retribution."
Watch the final commercial here.
The story takes place in Las Vegas where Abigail, a lethal vixen raised by Daimons, is on the prowl seeking revenge on Jess "Sundown" Brady, a strong, sexy, outlaw cowboy turned Dark Hunter.
If you know the work of Sherrilyn Kenyon, then you know she has an epic collection of colorful characters. Our creative director and stylist, Amber Votel crafted distinct looks for each of these characters ranging from rustic Native American warriors to classical Grecian deities and everything in between. But before the real fun begins, everything first starts with a script and some storyboards. Below are a couple side by side comparisons of some of the boards and the final frames from the commercial.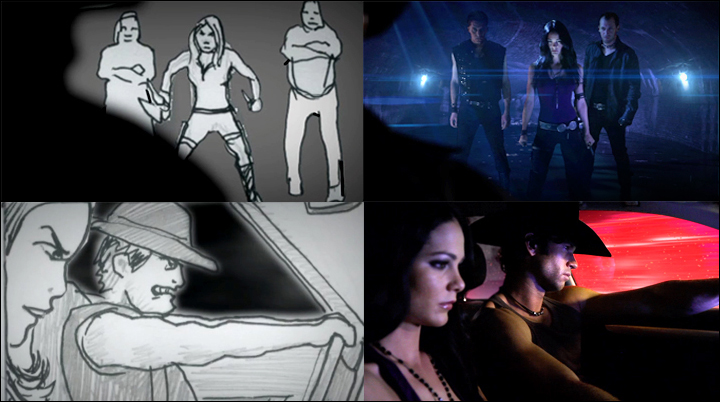 Chris Roth, our Director and head animator did all the post vfx effects work. Below are some examples of the raw footage next to the finalized shots with all the backgrounds and post magic implemented.
The production was shot over two days entirely on a green screen soundstage in Los Angeles. Our amazing cast and crew made this shoot extra fun over the holiday weekend. Check out some behind the scenes photos below.